Ingrid Eggens exhibition Knex, Knax, Knoxs, Virvx and Handl. Curator: Jonas Ekeberg. The exhibitions were open in the period 20th of August until 27th of September 2020.
Cut proposals can stop Fotografihuset
With Fotografihuset, Oslo has a historic chance to gain an international center for one of the most important cultural expressions of our time. The city council's budget processing on 9th of December 2020 may decide the fate of the project.
Fotografihuset in Oslo has been under development for six years, and aims to share knowledge, experiences and enjoyment of all types of photography with the widest possible audience. We really have the best conditions for success: the entire Norwegian photography community is behind it, a unanimous city council has decided that the house will be located in Oslo and we have a completed building project on the world's best plot of land: Sukkerbiten in Bjørvika.
But the sea is rough. The city council decided in the autumn of 2019 to investigate a possible rezoning of Sukkerbiten to a free area. It is a point of view and a process that we respect, even though we believe that the best thing for Norwegian cultural life and Oslo's population is to combine a photography house and open space, as the existing plans call for.
Hard year
But the decision also created major financial problems for Fotografihuset. Several of our sponsors and supporters began to have doubts. In addition, the corona pandemic came in the spring of 2020 and made the financing and operation of our temporary exhibition pavilion at Sukkerbiten very challenging. It has been a tough year for us, as for everyone else in cultural life. Nevertheless, we managed to open in August, with outdoor exhibitions and free events for all.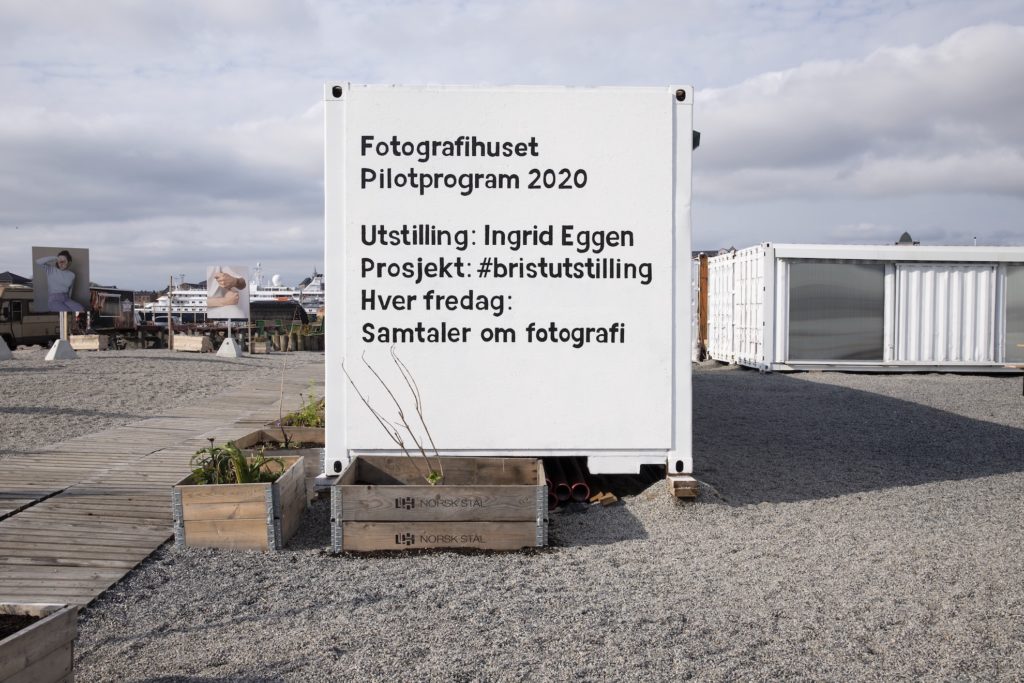 From Fotogafihuset's pilot program in summer 2020. Photo: Fotografihuset.
In 2021, we will expand the program with the Nordics' leading photographers and a broad dissemination program from Easter to the autumn holidays. We will also participate in the discussion about Sukkerbiten when the report is available. If the conclusion is that we cannot build there, we will find another suitable premises.
Can come to a complete stop
The basis for all this is the operating subsidy from Oslo municipality. In 2020, it is NOK 500,000 and covers our basic operating expenses. In the city council's budget proposal for 2021, it is proposed to cut it by a whopping 70%, to NOK 150,000. This will mean that the business must be reduced to a minimum and that we will lose much of our hard-earned credibility, both in the discussion about Sukkerbiten and in relation to other donors and partners. In other words, it could come to a complete halt for what was to become Oslo's next major cultural institution.
We ask the city council to say no to the city council's cut proposal and to maintain support for Fotogafihuset at least at the same level as in 2020. It is Fotografihuset's future that will be decided when the Oslo budget is adopted on 9th of December.
Leif Holst Jensen, chairman of the board
Jonas Ekeberg, artistic and general manager
Arthur Tennøe, chairman of the joint organization Foto-Norge
Knut Førsund, chairman of Stiftelsen SE
In the autumn of 2019, the architect office Atelier Oslo won the competition for the Fotografihuset at Sukkerbiten with this proposal, which goes by the name "Trelett". © Atelier Oslo / HAV Eiendom / Fotografihuset.